Xender: Data Transfer fastest Android App
Now, we are in a world of very fast world 3G network connection, 4G where we can surf the Internet, watch videos and download large files within minutes at very high speed.
But we use the connection to 3G / 4G Internet to transfer files from mobile phone to a friend who is standing nearby? No, we do not. We generally use Bluetooth technology which helps us to transfer files from one mobile phone to another good data transfer speed. As new versions of Bluetooth ª came out, bluetooth data transfer rate has increased.
You might be considering that the easiest and fastest way to transfer data rate of the nearest cell phone, but it is not. Now on Google Play Store, a free application called Xender that is serving very fast data transfer speed. You can transfer all kinds of data such as songs, videos, documents, applications, etc using this application and offering 50 times faster than the speed of Bluetooth.
Xender, formerly known as Transfer Flash is an application based on Wi-Fi and works on all Android phones or tablet with Android 2.2 or higher operating system. Use the power of WiFi to provide a transmission rate of ultra-fast, but does not use the internet.
Xender providing streaming in-app. So, to use this application, as it requires your friend to have Xender installed on your device.
Follow these steps to install Xender:
Step 1: Download Xender to your phone and install.
Step 2: Once the application is installed, open it. After the welcome screen once you will be taken to a screen where you are required to establish their profile pic and name. You can choose from one of the provided avatars or image available on your phone. Choose a name that your friend can identify your Xender.
Step 3: Now your phone is ready to send / receive files Xender. Let your friends to follow the steps above and after doing this, you can share your files, ebooks, pictures, music, videos, etc with friends.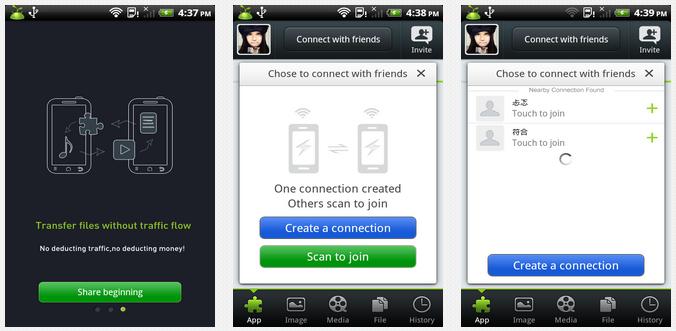 Sharing files through Xender?
Step 1: Open the application and ask your friend to open Xender on your cell phone too.
Step 2: Click "Connect Friends' and then 'Create Group'.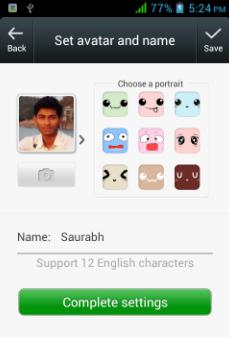 Step 3: Your friend will receive a notification that you are Xender online. I only ask that you click Connect to join Friends then Tap next to your name Xender appearing on your cell phone.
Step 4: Now that both connected to send / receive files via Xender.
Now you can navigate your phone to search for songs, videos, ebooks, etc directly from Xender, select whether to send bulk or one at a time. The data transfer speed is very fast. As for my Micromax Canvas 2 Plus, where I get the bluetooth transfer speed of about 200 kbps, Xender plays a very fast speed of 7039kbps (the average speed).
More features Xender


Connect more than one friends and share files all at once.
Free Transmissoin. It costs no traffic.
Slide 'n Share feature allows you to share files with selecting only shake the phone.
Share installed Android apps. Xender will pack and send to your friends again.
Scan all files and folders easily through the application.
It uses the story to share recently received / sent files to another person Xender.
conclusion
Unlike other applications that only advertise a powerful performance, but provides a very limited application performance Xender does what it says. Really offers 50 times faster than data transfer speed of Bluetooth. Therefore, if you are looking for powerful alternative to Bluetooth Xender is a great option.
Install APp here