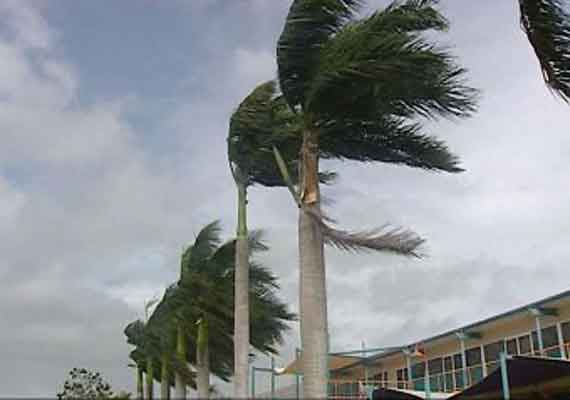 HYDERABAD :
Heavy rain accompanied by strong winds lashed coastal Andhra Pradesh as cyclone storm Helen is all set to the coast near Machilipatnam met on Friday afternoon. A warning was sounded in the coastal districts , while the authorities are precautionary measures, including evacuation of people from low-lying area in order to minimize the damage of the cyclone in the Bay of Bengal.
According to the Indian Meteorological Department (IMD ) , the severe cyclonic storm will cross the coast near Machilipatnam Friday afternoon. Andhra Pradesh has nearly 1,000 km of coastline and the nine districts face cyclone threat every year , especially from September to November .
Chief Minister N Kiran Kumar Reddy Friday reviewed the situation with the Chief Secretary and other officials in Hyderabad , and ordered them to take all precautions, especially in Krishna and Guntur districts .
A control center to monitor the situation has been opened at the State Secretariat , Hyderabad. The control room numbers are 040-23456005 , 23,451,043th. The IMD bulletin on Friday morning Helen said of west-central Bay of Bengal slightly moved westward and lay centered about 25 km south of Narsapur and 60 km east of Machilipatnam .
Under the impact of severe cyclonic storm many parts of Krishna , Guntur , East Godavari , West Godavari , Visakhapatnam and other districts have been receiving rain . The strong winds have uprooted trees , towers and communications disrupted transport and electricity supply in some parts of the coastal areas . The sea conditions were rough and flushed the sea water in some places for a few meters of land .
The high-speed wind has damaged coconut , banana and paddy crops, and dealt another blow to farmers who are still recovering from the severe damage caused by last month Cyclone Phailin and accompanying heavy rain. The IMD has forecast rainfall at most places and heavy to very heavy rainfall at a few places and isolated extremely heavy rainfall (25cm or more ) on northern coast of Andhra Pradesh and neighboring Guntur , Krishna , West Godavari districts of south coastal Andhra Pradesh for the next 36 hours.
Rainfall at most places with isolated heavy to very heavy falls over south would remaining districts of Coastal Andhra Pradesh, Rayalseema and isolated heavy expected to occur very heavy rain over Telangana during next 48 hours. Gale - Wind speeds reached 100-110 km per hour , with gusts up to 120 km per hour would sweep through Prakasham , Guntur , Krishna , East and West Godavari and Vishakhapatnam districts in the next 12 hours, said the weather forecast.
The IMD has warned that storm surge of about 1 to 1.5 m height would the low-lying areas of East and West Godavari , Krishna, Guntur districts and adjacent areas of Prakasham district at the time of the cyclone, flood landfall . A control room in Krishna district collector office was opened . His telephone numbers are 08672-252572 08672-251077
Helen threatens coastal Andhra even as the state nor of the massive damage and heavy rain caused Phailin in October to recover . Krishna district collector Raghunandan Rao , a holiday for all educational institutions was declared in coastal areas. He said 10 relief camps were evacuated people from low-lying areas open , and more than 5,000 people have already moved them . Sixty personnel of the National Disaster Response Force ( NDRF ) personnel for rescue and relief was in use .